Introduction: DigiSS is a slide show screen saver designed specifically for use with images produced by digital cameras. Like most slide show screensavers, DigiSS creates a "slide-show" from a user-created play list of image files. But DigiSS improves on other screen savers in four ways:
1. DigiSS allows you to display any (or all) of the "hidden" information contained within digital camera files as part of the slide show. Many digital cameras insert information such as time, date, aperture, shutter speed, focus, exposure and zoom settings inside the files they produce. DigiSS can read this information and display it in the slide show. For example, select the Time and Date options and when the slide show begins all of your digital camera images will be displayed with a Time/Date stamp.
2. DigiSS makes it much easier to select the images to be included in the slide show. Most conventional screen savers require the user to select the images to be included in the display one by one, or folder by folder. If you've been using your digital camera for any time, you probably have images in many folders. DigiSS makes selecting all the images in all the folders a one-click procedure. Select the parent folder, and tell DigiSS that the images are contained in subfolders, and it will find all the graphics files. You can also tell DigiSS to scan for new images each time the screen saver starts, eliminating the need to update the play list each time you take more pictures.
3. DigiSS is an interactive screen saver. During the slide show you can control the configuration and options by using selected "hot keys". For example, pressing the "n" key immediately moves to the next image. Pressing the "p" key pauses the slide show on the current image, and "t" displays the current time and the elapsed time since DigiSS began. Pressing "i" toggles the information display on and off, and "c" brings up the configuration screen allowing you to change any of the programs settings.
4. DigiSS can function as a stand-alone slide show program. Create a short-cut to DigiSS on your Start-menu or Desktop and you can launch DigiSS manually. Hit "c" and all of DigiSS' configuration options are available.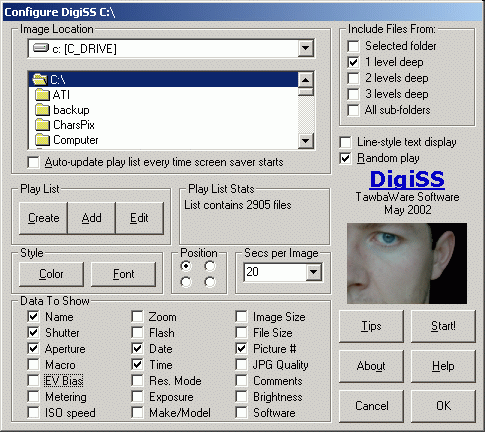 Note: DigiSS was written in Visual Basic 6 and requires the latest Visual Basic runtime files to operate. Your computer probably already has these files, but if you need them, you can get them here.

Downloading and Registerting DigiSS. Click the link below to download DigiSS. DigiSS is shareware, and limits the number of images that can be displayed from the play list. Registering DigiSS removes this limitation.

To register DigiSS using the Kagi on-line payment service, click here. The cost to register DigiSS is US $8. Kagi accepts most credit cards and other forms of payment. (Click here for secure on-line ordering). Once registered, you will be e-mailed an activation code to unlock the limit on the number of images that can be included in the play list, and you will be entitled to any future upgrades for free.



Download DigiSS



If you have any trouble running or regsitering DigiSS, please contact Max Lyons (maxlyons@tawbaware.com).



Tawbaware Home