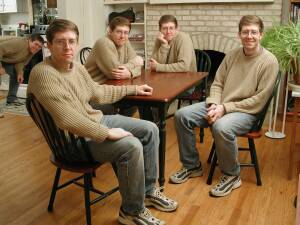 5 exposures combined into one image
This is an old picture of me...Max Lyons. I'm the author of the software and photographs on this site. I became interested in progamming and digital photography about the same time, in 1996, after buying a "Teach yourself Visual Basic" book and a fantastically over-priced digital camera. More than fifteen years later, I am still actively involved and have written dozens of software applications and taken thousands of images in pursuit of this interest. The software and photographs on this site are the product of many years of work and a lot of late nights.

In addition to my digital camera software and writings, many of my panoramic and mosaic photographs are here. As the creator of the first gigapixel image in 2003, I have also created a gallery of similar sized gigapixel images here.

If you wish to get in touch, send me an e-mail at maxlyons@tawbaware.com. Thanks for visiting.