TawbaWare
Windows:
Thumber
PixelZap
ColorFix
Image Stacker
PTAssembler
DigiSS
EXIFRead
Framer
FileLister
MinUpTime
HideWin
FileMonitor
Dos:
CamWork
CRead
WordCount
HTMLR
CRead
JPEG Embedded Comment Reader
CRead. Cread is a small freeware Windows 95/98/NT command-line program that searches for comments within JPG files. Many image editing applications, including Thumber allow you to add comments to your JPEG files. CRead can list all these comments or search for files containing specific strings. The program is extremely small (about 10KB) and much faster than using the "Find Files or folders" feature built in to Windows. My tests indicate that CRead is approximately 10-100 times faster than the Windows "Find Files or folders" tool at finding a specific string in a list of 1,000 or more images.
CRead can search for comments in one file, one directory, or recursively through multiple directories. Searches can be case-sensitive or insensitive, and information about JPG markers can also be produced using verbose mode. For instructions on CRead, type "CRead -?" at the command prompt.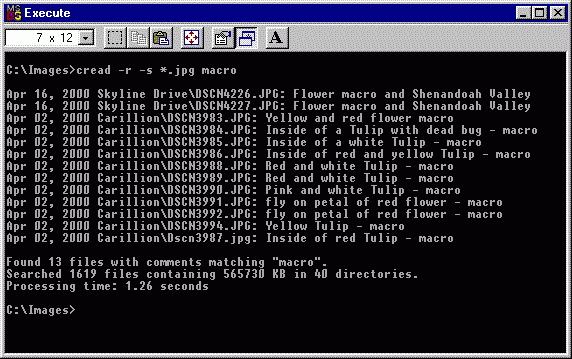 Download CRead (10 KB)



CRead is freeware, but I'd appreciate an e-mail if you use it and like it. This program is copyrighted, and may not be modified or redistributed for charge without permission of the author.




Back to Tawbaware HomePage