TawbaWare
Download
FAQ

Windows:
PTAssembler
Image Stacker
Star Tracer
TuFuse Pro
Thumber
PixelZap
ColorFix
DigiSS
EXIFRead
Framer
FileLister
MinUpTime
HideWin
FileMonitor

Dos:
CamWork
CRead
WordCount
HTMLR

Thumber
Digital Image Processing Software
Introduction. Thumber is a multi-purpose digital imaging tool -- a "Swiss army knife" for digital camera owners and imaging enthusiasts. Thumber (which runs on Windows 95/98/NT/XP/2000) automates many of the routine tasks associated with digital images. Thumber can be used to create web pages, display image information, rename files, add comments, view and edit images, and more...
Although Thumber will work with any JPEG images, it includes many specialized features useful for images that are produced by digital cameras. These features take advantage of the fact that the pictures produced by most digital cameras contain more than initially meets the eye. In fact, most digital cameras store information about the image (as well as mini "thumbnail" images) within the files they produce. But, most graphic and image viewing software doesn't know how to find or read this information and ignores it. Thumber can read and display this information in a variety of ways. A web page with tens or hundreds of thumbnails can be created in seconds using Thumber -- no further HTML editing is necessary.
As of 2004, almost all current digital cameras produce JPEG images that contain "EXIF" information--this can be read and understood by Thumber. Thumber can also read information from files produced by many older (i.e. 1997-1998 vintage) cameras that used the "APP12" format. Because of the rapidly increasing number of cameras it is impossible to enumerate every single model that will work with Thumber, but if your camera was purchased within the last few years, chances are good that it will work.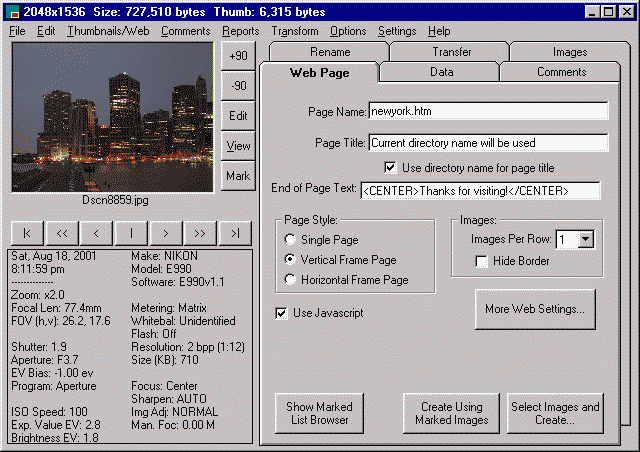 Program Features:
1.) Thumbnails/Web Page Creation. Thumber can create "contact-sheet" style web pages with thumbnails linked to the full-sized originals. Thumber can create a web page for just one file, several files or multiple directories. When creating a web page Thumber can also extract and include information about the images in which it finds a thumbnail. Depending on the type of camera, Thumber is able to determine time, date, file size, flash, aperture, shutter, exposure compensation, ISO speed, program mode, whitebalance, picture number, resolution, compression information (and more) from most pictures, and can compute 35mm equivalent focal length and scene brightness. Thumber can also create a master index page with links to all of the individual contact sheet pages -- ideal for cataloging a large collection of images before burning onto CD.

2.) File Renaming & Redating. Thumber performs batch renaming of image files using the information contained within. Thumber can process one file, multiple files in the same directory, or all files contained in multiple directories in one pass. Files can be renamed with their date, time, size, flash settings, etc....

Thumber can also change a file's time/date stamp to correspond with the time/date information reported in the image. This feature is useful if you have downloaded an image using a serial cable and the time/date stamp corresponds to the download time, not the image capture time.

3.) Image Information Retrieval & Reporting. Thumber can display all of the raw EXIF or APP12 data contained in an image file. Load the file into the viewer and display the image properties to see a complete listing. Thumber can also create a text report containing the information contained within one or more image files, or tab delimited file suitable for importing into a spreadsheet. Thumber can process single images, multiple images, or multiple directories simultaneously.

4.) Comments. Thumber can add, append, remove and read comments embedded within a JPG file. These comments do not affect the appearance/display of an image in any way, but can be used to store user-defined information within an image. These comments can be included in the web page created by Thumber. Since the comments are added as text, you can use the Windows 95/98 "Find Files and Folders" feature to search your JPG files for comments inserted by Thumber. Thumber can process single or multiple images simultaneously.

5.) Lossless Image Manipulation. Thumber also acts as a "front-end" for JPEGTRAN, a freely available DOS program for "loss-less" JPEG image rotation based on source code from the Independent JPEG Group. JPEGTRAN allows you to rotate and transform images without incurring any quality degradation that occurs using most other image editing software.

6.) File Transfer. Thumber can transfer files between a source and destintation directories, such as a removeable memory card reader and a hard-drive. Select the Transfer tab and choose a source and destination directory to activate this feature. Thumber can also be set to automatically transfer files between directories upon startup.

7.) Image Editing Thumber now incudes an image editor. The editor includes a 3x3 convolution matrix filter, histogram, color adjustment and resample features. Unlike most editors, images that have been edited using Thumber's editor retain any image data they contain. EXIF data is not lost after editing! NEW: Thumber can now perform "batch" image processing--running multiple transformation functions on multiple images in one step.

8.) Image data transfer Thumber can transfer EXIF and/or APP12 image data between files. If you edit one of your images in another application it will probably not retain its image data. Use Thumber to put the image data back into your edited files.

9.) Bad/Stuck Pixel removal NEW: Thumber can now remove "bad" pixels -- bright spots on images that are caused by defects in digital camera CCDs.
More details / Frequently Asked Questions:Are you having a problem with downloading, installing, or running Thumber? Check out the new Frequently Asked Questions document. Or, can't decide if you want to download? If you want some more details, Thumber's help file contains more information.
Download Thumber: Thumber is written in Visual Basic 6 and requires the latest Visual Basic 6 runtime files to operate. Your computer probably already has these files, but if you aren't sure click here to find out what they are and how to get them. If you don't like automatic installers, get the "manual install" version below, otherwise choose the "automated install" below.


Freeware or Shareware? Earlier versions of Thumber were released as freeware. Thumber is now shareware, meaning you are expected to "register" it (i.e. pay $18) to purchase the program. While Thumber will operate without registration, some of its features are limited until the program has been registered. You can register Thumber on-line using the Kagi payment processing service. Thumber comes with no warranty and TawbaWare and the author take no responsibility for any damages caused by the use of this program.