TawbaWare
Windows:
Thumber
PixelZap
ColorFix
Image Stacker
DigiSS
PTAssembler
EXIFRead
Framer
FileLister
MinUpTime
HideWin
FileMonitor
Dos:
CamWork
CRead
WordCount
HTMLR
EXIFRead

EXIF Information Reader

EXIFRead. EXIFRead is a small freeware utility that extracts image information from EXIF/JPG files. Many new digital cameras (including the Nikon Coolpix 900, Fuji MX700, Kodak DC 260, and Minolta 1500) create image files that store information about the image and the camera that took it. Information about shutter speed, aperture, focal length is typically included. EXIFRead will extract and display all the information that it finds in the file. The information that EXIFRead displays can be copied to the clipboard and saved as a text file.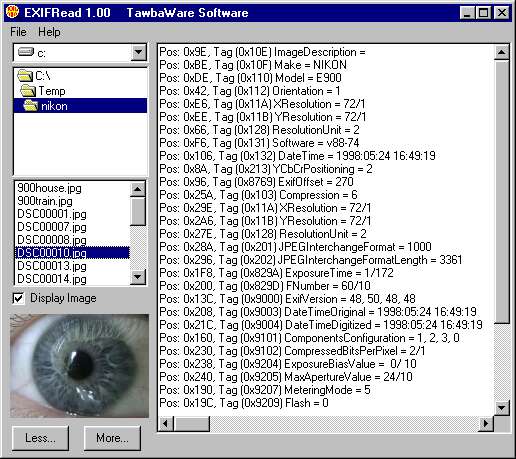 For information on the EXIF file structure and an explanation of all the tags please refer to the succinctly titled "Photography-Electronic still picture cameras - Part 2, Image data format: TIFF/EP," document number ISO 12234-2, available from the Photographic & Imaging Manufacturers Association.

EXIFread was written in Visual Basic 6 and requires the latest Visual Basic runtime files to operate. If you need them, you can get them here.




Download EXIFRead



EXIFread is freeware, and all the standard disclaimers apply. TawbaWare and the author take no responsibility for any damages caused by the use of this program. However, I'd appreciate an e-mail if you use it. If you find a new camera that EXIFread works with, please send me an e-mail.